Revival Rose Premium Plant Oil J (Cosmetology Oil for Whole Body) / 272601
RM297.00
3 in stock
Description
Youtube ShowCase From Us : https://www.youtube.com/watch?v=BuGQqQokuQc
Shiny and moisturized skin and hair of women that fluctuate with age.
A naturally derived whole body beauty oil blended with 7 types of high quality botanical oils.
With a smooth and smooth feel, it can be widely used as a treatment from the head to the toes.
Relaxing aging care with a faint rose scent *
Product information
◆ Beauty oil for whole body
◆ 6 additive-free *
◆ Capacity: 60mL
◆ Emollient ingredient: 7 natural vegetable oils * 2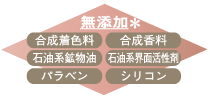 ■ Due to the characteristics of naturally derived ingredients, it may thicken at low temperatures or become cloudy and harden, but there is no problem with quality, so please return it to its original state at room temperature (warm place) before use.
■ Due to the characteristics of naturally derived ingredients, the fragrance tends to weaken over time, but there is no problem with quality.
Product features
7 kinds of oils for feminine soft skin and glossy hair
・ Johoba oil [Johoba seed oil]
・ Pomegranate seed oil [Pomegranate seed oil]
・ Rose hip oil [Canina rose fruit oil] <Emollient ingredient>
・ Argan oil [Argania spinosa kernel Oil]
・ Vegetable squalane [Squalane]
・ Olive oil [Olive fruit oil]
・ Macademia nut oil [Macademia seed oil] A
faint natural rose scent
Rose essential oil wraps the whole body and you can use it relaxedly and relaxedly.
Six skin-friendly
, synthetic colorant-free
, synthetic fragrance-free
, petroleum-based mineral oil-free
, petroleum-based surfactant-free
, paraben-free,
and silicon-free
. You can use it in various ways!
[Night skin care] At
the very end of daily care, apply oil to the entire face.
By wrapping the skin surface with oil, it firmly traps moisture and strengthens the moisturizing power.
[Hair Treatment] After
washing and towel-drying, apply about 4 drops to the center of the hair before the dryer. It protects the hair from the heat of the dryer and makes it moist and easy to organize.
[Special Care] Apply
to the entire face before the sheet mask, and apply a few drops after the mask. You can adjust the amount of oil depending on how dry your skin is.
[Body / Parts Care]
Immediately before leaving the bathroom, apply oil evenly to the skin with water droplets remaining, and then gently wipe off the moisture with a towel to make the skin moist and glossy.
Layer areas of concern such as elbows, knees, and heels. It can also be used for fingertip & nail care and décolletage care.
[Makeup]
Add a drop to your liquid foundation or cream foundation to improve the spread and transform into a moist and glossy foundation that won't dry until evening!
Soak it in cotton or a cotton swab to wipe off the part you want to repair, and also for partial cleansing when remakeup!